Sébastien Kills - Kill's Mix - International Premium
Sébastien Kills - Kill's Mix - International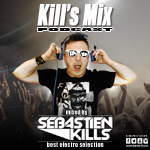 SEBASTIEN KILLS is a DJ native of Nantes (the Loire the Atlantic Ocean / France). He officiates since the 90s, and was one of OF foremost DJ of the of Nantes scene as resident in various clubs among which Star Palace, le Wilton's Club, le Manoir, le Jaouen, le Manhattan, le Looksor…He accumulated from 2005 till July, 2016, the job by radio presenter on Radio NTI ( Nantes). He produced there and livened up 'CLUB NEWS', a broadcasting of 4 hours which programmed only Electro sounds Dance music ( EDM) with many novelties.
 It is in 2006/2007 that SEBASTIEN KILLS also becomes Producer / remixer, and it quite naturally, indeed, from the age of 6 years and during 4 years, he studies the music theory to the academy of Nantes, at first behind a piano, then until his 16 years behind a battery  and/or percussions in classic formation and jazz. He signs his tracks and remixes on his own label KILLS PROD. A big part of its productions will be classified in France in classifications  specialized clubs as: Yacast, DJ Buzz and Extra Club, between 2009 and this last summer 2016, including several in the TOP 20 to see TOP 15. During this period, SÉBASTIEN KILLS also continues to animate dancefloors through France with her tour 'THERAPY'.
 In September, 2016, it is '1 2 3 JUMP' whichlands on dancefloors, an Electro sound Batucadas which expects  from a musical change progressive but radical and focused more on Big House and House Progressive see Deep and Future House than the Electro dance he produced so far. The title will remain ranking more than 12 weeks in the TOP 40 of the classification MusiboxLive in France. The single went out international the end of December, 2016 always on its label KILLS PROD, but from now on distributed by Believe Digital, the world leader of the digital distribution of the independent labels, a real consecration and a new essential stage in the development of SEBASTIEN KILLS's career.
 Its podcast, thrown in 2010, 'KILL'S MIX Best Electro Selection' became, since June, 2016 further to the request, the podcast is delivered 'key in hand' weekly radio show and exclusively to more than 70 radios, to United Kingdom, in Switzerland, in Belgium, in Canada, In Tunisia, in South Africa … and naturally in France among which 8 radios FM.'KILL'S MIX Best Electro Selection' references the best Electro titles in remixed versions as well as the best novelties which will be the tubes of tomorrow (EDM, Big Room, Progressive, Remix, Bootleg). The show lasts one hour, presented (speak) in French andor in English for an international distribution.
Click here to download the sales brochure of the emission.
Catégories :
Contenus hebdomadaires
Mix actuel
Premium
Formats :
émission 1 x 60 min
pdf 1 x 0 min
Extrait :